Free Original CURSORS
by Debi
These cursor sets are in small zip files.
The size given is the size of the zip file.
Just click on 'Download' to download to your hard drive.


Christmas Cursors Set (103k) Set of 16 animated & 3 static holiday cursors including flashing arrows, twinkling stars and much more.
Download
---
Christmas Trees Cursor Set (123k) Set of 9 static cursors and 2 animated cursors, featuring trees brightly decorated for the holidays.
Download

---


Fall Tree (3.14k) An animated cursor of a tree whose leaves turn pretty autumn colors and drift down gently into heaps on the ground.
Download
---
Weather Cursor Set (5.32k) Various weather conditions displayed in 4 animated and 2 static cursors.
Download
---
Halloween Cursor Set (7.39k) 4 Animated and 2 static cursors for Halloween.
Download
---
Roses Animated Curor (1.9k) Animated rose cursor which changes colors.
Download
---
Dancin' Flamingo Animated Cursor (7k) Animated cursor featuring a danicing pink flamingo against a blue backgroud.
Download
---
Books Animated Cursors (8.83k) Set of 6 different colored animated book cursors.
Download
---
Snacks Animated Cursors (6.67k) Set of three yummy snacks.
Download
---
Apple Tree Animated Cursor (3.27k) An apple tree blooms and grows lots of apples.
Download
---
Ballons Animated Cursor (2.11k) A bunch of colorful balloons break free and rise up through clouds.
Download
---
Flower Garden Animated Cursor (1.47k) Watch a colorful flower garden grow.
Download
---
Easter Cursors (16.4k) Set of 19 static Easter cursors, and one animated one.
Download
---
Flower Pot Animated Cursors(4.8k) Set of 3 growing flowers in pots in assorted colors.
Download
---
Smiley Cursors (6.11k) Set of 18 various colored smiley face cursors.
Download
---
House Cursors (20.2k) Set of 26 assorted colored house cursors.
Download


If you would like to be sent an email announcement

of new freebies and surprises I add on my site, get a glimpse of
upcoming things, 'behind the scenes' stuff, & special offers,
and to be among my most special visitors,
just sign up for my fun to read free newsletter today!!


PLEASE VOTE FOR THIS SITE!
Do you like this site? Did you find any freebies here that you are happy with?
Please support my site by clicking on one of the boxes below.
(You can vote for each one every single day!) Thanks for your support!!

OR

OR

OR

OR


By the way, these sites also are full of great links!
But be sure to use your browsers back button to return here.



Sign up today!
If you are interested in, own a website about, make,
want to know where to find the best of, or like to talk about
icons, cursors, themes, wallpapers, screensavers,
or any other desktop graphic then this moderated list is for you!
Click on the logo below: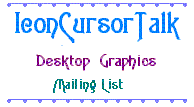 Sponsored by Debi's Wonderful World-Free Icons, Cursors & More


WebRings & Awards


Get PAID to recieve e-mail!! Check this one out!
http://www.sendmoreinfo.com/id/15905

Please visit My New Sister Site: