Get sponsored! Ad provided by Bach Systems, Inc.
Debi's
Wonderful World





Welcome to my little home on the World Wide Web! I have lots of icons, cursors, themes, puzzle games, clip art, screensavers, counted cross-stitch designs, and so much more. Look around & stay for awhile. Make yourself at home, help yourself to the free goodies I have here to share with my visitors and sign my guestbook. Be sure to bookmark this page and check back often, as I will be constantly adding new things. All the goodies you find here are original and made by me. Be sure to check out the "Dear Debi" advice page. Read questions that people have written to me and then read the answers I gave to them, or write a question of your own. Why not send someone you know a free virtual greeting card with our free virtual webcards! If you would like to be invited back to see the newest treats and surprises I add here, just sign up for my free newsletter. If you like what you see here please vote for my site. If you know anyone who would like this site, you can send them a recommendation which will enter YOU in a contest to win a free Palm Pilot III. After you have looked around here, surf to some of the cool links in my Favorite Links section. I hope you enjoy your visit and come back often!

Don't forget to Bookmark this Page!



Click here to send a card
FREE Virtual
WebCards!

Enter ID# in box below

PLEASE VOTE FOR THIS SITE!
Do you like this site? Did you find any freebies here that you are happy with?
Please support my site by clicking on one of the boxes below.
(You can vote for each one every single day!) Thanks for your support!!

OR

OR

OR

OR

By the way, these sites also are full of great links!
But be sure to use your browsers back button to return here.


If you would like to be sent an email announcement
of new freebies and surprises I add on my site, get a glimpse of
upcoming things, 'behind the scenes' stuff, & special offers,
and to be among my most special visitors,
just sign up for my fun to read free newsletter today!!

WebRings & Awards


Get PAID to recieve e-mail!!
Wow! Check this one out! $$$ Free Sign-up!
http://www.sendmoreinfo.com/id/15905
No Kidding! A great way to earn a little extra CASH so easily!
Also available: great advertising opportunity!



Just ask yourself this little question:
"How much time DO you spend online?"
Why not get paid for it?! What are you waiting for?


Sign up is Fast, easy and Free!
Earn even more by referring your friends and family! WOW!



Do you forget all your passwords? Hate filling out web forms?
Here's the answer! Grab your FREE Gator today! I love this!!!



Get sponsored! Ad provided by Bach Systems, Inc.



Check out BE PAID


Awesome opportunity to get PAID to read ads!
Free & Easy sign up. Available in all countries.
Works with AllAdvantage! Get paid for BOTH at the same time!!
Earn bigger bonuses by just by referring friends.



Tell a Friend about this site.
Each recommendation gives you another chance to win!


---
You will LOVE this!!
Get a FREE, super-fast-loading,
FUN Wotch mini-browser!!
Great freebie! So cute and incredibly FAST!
---
Sign up today!
If you are interested in, own a website about, make, want to know where to find the best of, or like to talk about
icons, cursors, themes, wallpapers, screensavers, or any other desktop graphic then this moderated list is for you!
Click on the logo below: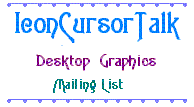 Sponsored by Debi's Wonderful World-Free Icons, Cursors & More
---
---

Get sponsored! Ad provided by Bach Systems, Inc.
---

Get sponsored! Ad provided by Bach Systems, Inc.
---
Get sponsored! Ad provided by Bach Systems, Inc.
---

Get sponsored! Ad provided by Bach Systems, Inc.